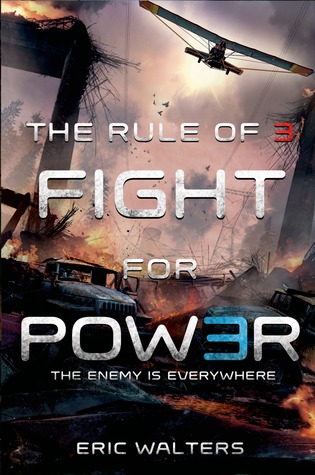 Info:
Title: Fight For Power
Author: Eric Walters
Series:
The Rule of 3 #2
Publisher: Farrar, Straus and Giroux (BYR)
Publication Date:
January 20, 2015
Source:
I received an ARC in exchange for an honest review
Synopsis:
The world keeps getting darker in this second reality-based survival adventure in the Rule of Three trilogy
After sixty-six days of a catastrophic global blackout, life in the suburbs is not what it used to be for Adam and his fortified neighborhood of Eden Mills. Although an explosive clash has minimized one threat from outside the walls, Adam's battle-hardened mentor, Herb, continues to make decisions in the name of security that are increasingly wrenching and questionable. Like his police chief mom and others, Adam will follow Herb's lead. But when the next threat comes from an unexpected direction, nobody is ready for it. And someone is going to pay the price—because of Adam's mistakes and mistaken trust.
Review:
I just finished this one and I am seriously stressed out. That last chapter! Yikes!
Fight for Power continued on where The Rule of 3 ended: with Adam and his friends and neighbours battling against the group of men who were threatening their neighbourhood. Much like The Rule of 3, Fight For Power focused on the struggle to survive. However, as more and more time passes with no hope of rescue, the group begins to focus more and more on the long term, specifically surviving the winter.
Adam is kind, thoughtful and extremely moral, which makes him a direct contrast to characters like Brett and even Herb. He constantly acts as the voice of morality for the governing committee. While I think it's a bit unrealistic that the committee would put so much stock in the opinion of a 16 year old, it does help the reading to connect with Adam and his struggle to do the right thing in such crazy times.
One thing that bothered me a little bit was that occasionally the writing and Adam's voice felt a little awkward. Like there was a bit too much explaining for a first person story.
But overall I did enjoy the survival aspect of the story and I thought the suspense at the end was very well down. I did guess what was going on before it was revealed, but not too early and I enjoy being able to pick up on author's hints and create my own theories.
Find the Book:
Goodreads | Amazon
| The Book Depository | Chapters
Find the Author:
Goodreads
|
Twitter
|
Web