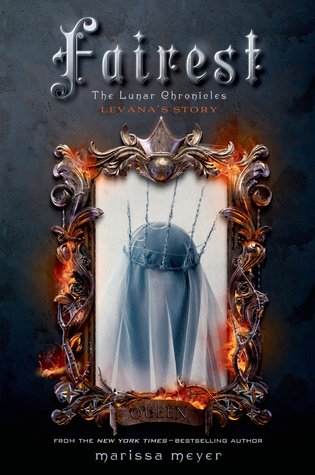 Info:
Title:
Fairest
Author: Marissa Meyer
Series: The Lunar Chronicles #3.5
Publisher: Feiwel & Friends
Publication Date:
January 27, 2015
Source:
Purchased.
Synopsis:
In this stunning bridge book between
Cress
and
Winter
in the bestselling Lunar Chronicles, Queen Levana's story is finally told.
Mirror, mirror on the wall,
Who is the fairest of them all?
Fans of the Lunar Chronicles know Queen Levana as a ruler who uses her "glamour" to gain power. But long before she crossed paths with Cinder, Scarlet, and Cress, Levana lived a very different story – a story that has never been told . . . until now.
Marissa Meyer spins yet another unforgettable tale about love and war, deceit and death. This extraordinary book includes full-color art and an excerpt from
Winter
, the next book in the Lunar Chronicles series.
Review:
While Fairest was a fun extra installment, it lacked some of the magic found in the other books. The biggest reason for this is because it focuses on Levana, a character readers (myself included) can't stand. While it was interesting to see her side of the story, it does not make her any less of a psychopath. Ok granted there were some hardships in her life, but the way she reacted to them shows how insane she really is.

So basically the book is Levana's backstory, starting with the death of her parents when she was a child and ending with her as queen of Luna with designs on Earth. While it was interesting to see the other side of things and get explanations for things like Levana's obsession with glamours and why she wants Earth so badly, it never really made me sympathize with her. Well, perhaps a bit in the beginning, before she starts doing things that were completely insane and honestly creepy.

Fairest also lacked some of the adventure and excitement of the other books, as it is a prequel and we already know how things end up. But the author's writing still maintains the same quality as the previous books.

Fairest certainly is Levana's story. It follows her development from lonely princess to tyrannical ruler. While not as good as the books in the main series, it's still worth reading for fans who can't wait for Winter.
Find the Book:
Goodreads | Amazon
| The Book Depository | Chapters
Find the Author:
Goodreads | Web | Facebook | Twitter