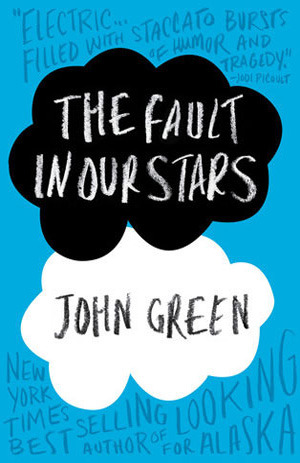 Info:
Title: The Fault in Our Stars
Author: John Green
Publisher: Dutton Books
Publication Date:
January 1, 2012
Source: Purchased
Synopsis:
Despite the tumor-shrinking medical miracle that has bought her a few years, Hazel has never been anything but terminal, her final chapter inscribed upon diagnosis. But when a gorgeous plot twist named Augustus Waters suddenly appears at Cancer Kid Support Group, Hazel's story is about to be completely rewritten.
Insightful, bold, irreverent, and raw,
The Fault in Our Stars
is award-winning author John Green's most ambitious and heartbreaking work yet, brilliantly exploring the funny, thrilling, and tragic business of being alive and in love.
Review:
So I am basically the last person on the internet to read this book. I feel like when a book has a ton of hype, it's at a disadvantage. So I will try my best to review this book like any other book, instead of subjecting it to the high expectations I had.

I liked this book. It was intelligent and interesting and unexpected. I don't read many (any?) illness books, but with all the hype surrounding this one, I thought I'd give it a try.

It's clear to me that John Green is a intelligent man. Despite the fairly simple writing style of in this book, some sections or sentences or phrases are really very good and helped remind you that you aren't reading just any book.

What I enjoyed about this book is that it more about LIVING with cancer instead of living with CANCER. Events happen other that the main character being sick. This was absolutely necessary to my enjoyment of the book. The characters do things and have conversations and fall in love, despite the presence of cancer in their lives.

The thing that bothered me a little were the characters themselves. They just did not seem likes really people. Well, Hazel I could most understand, probably due to our shared love of ANTM. But I am fairly certain that no teenage boy like Augustus has ever existed. People don't talk like that. People don't act like that. At least, not any teenage boy I ever met. And the cigarette thing. I don't get it. It strikes me as completely idiotic. Or pretentious. The latter is probably more likely.

Regardless of my small qualms with the characters, I did enjoy this book overall. While it's not a new favourite personally, I think I can see why it has gained such a following and fandom.
Goodreads | Amazon
| The Book Depository | Chapters