Info: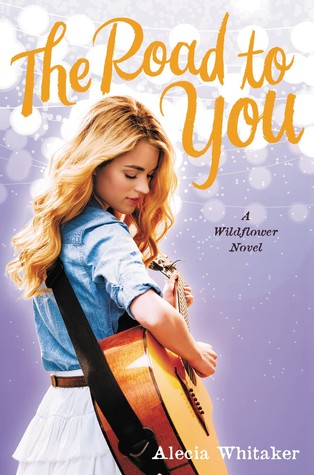 Title: The Road to You
Author: Alecia Whitaker
Series: Wildflower
#2
Publisher: Poppy
Publication Date:
July 14, 2015
Source:
I received a complimentary ARC in exchange for an honest review.
Synopsis:
The second book in the Wildflower series--full of drama, heart, and that country music spirit.
Bright lights... Screaming fans... Cute roadies... Country music sensation Bird Barrett is officially on tour. The months flash by in an exciting whirlwind, due--in no small part--to a certain dreamy lighting tech named Kai.
After the tour wraps up, Bird makes the move to LA, finding herself at the center of a trumped-up rivalry with another country music starlet she barely knows. Meanwhile, Kai's out on tour again with an indie rock band and growing distant, and Bird has the label breathing down her neck for a new hit song. Finding true love is supposed to be inspiring, so why does penning the next great country pop ballad suddenly feel so hard?
ABC's hit show
Nashville
meets
The Summer I Turned Pretty
.
Review:
So far, the Wildflower is one of my favourite contemporary series! I find Bird to be so likable and relateable, even though her life is so much crazier than mine!
This installment starts with Bird going on tour as the opening act for a country superstar. It's there that she meets Kai, the intense indie roadie that Bird immediately feels a connection with. Once the tour wraps up, her label suggests that she move to LA and attempt to be a crossover artist.
Bird deals with a variety of issues this time around: a long distance relationship, navigating the pitfalls of the LA media, dealing with friends (both good and not-so-good) and trying to assert her independence with her parents.
I wasn't a huge fan of the love interest, Kai. He's a bit too hipster for my taste and I just didn't think he and Bird were a great match, despite their chemistry. But he really does seem like a nice guy and I can see other readers liking him a lot.
The other new character we meet is Devyn, a Hollywood actress who strikes up a friendship with Bird. I wasn't a big fan of her; she lives a bit too much a crazy Hollywood starlet lifestyle, compared the Bird's down-to-earth personality.
Despite me not being crazy over the love interest, I did really like this book and can't wait for the next one to be released!