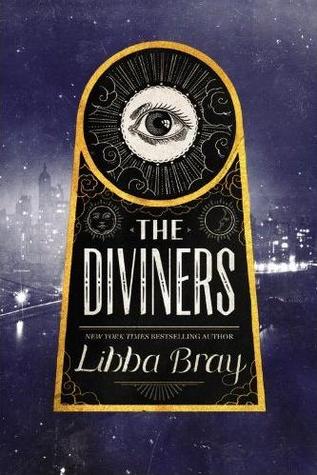 Info:
Title: The Diviners
Author: Libba Bray
Series:
The Diviners #1
Publisher:
Little, Brown Books for Young Readers
Publication Date:
September 18, 2012
Source: Gifted
Synopsis:
Evie O'Neill has been exiled from her boring old hometown and shipped off to the bustling streets of New York City—and she is pos-i-tute-ly ecstatic. It's 1926, and New York is filled with speakeasies, Ziegfeld girls, and rakish pickpockets. The only catch is that she has to live with her uncle Will and his unhealthy obsession with the occult.

Evie worries he'll discover her darkest secret: a supernatural power that has only brought her trouble so far. But when the police find a murdered girl branded with a cryptic symbol and Will is called to the scene, Evie realizes her gift could help catch a serial killer.

As Evie jumps headlong into a dance with a murderer, other stories unfold in the city that never sleeps. A young man named Memphis is caught between two worlds. A chorus girl named Theta is running from her past. A student named Jericho hides a shocking secret. And unknown to all, something dark and evil has awakened.
Review:
I really liked this book! The characters were great, the plot was awesome and I loved the 1920's setting.
Our main character Evie is a bit of a trouble-maker. She's a young flapper with a peculiar ability to read the history of an object. She is interesting and flawed, but still very likable (although a couple things she did at the end pissed me off).
The other characters were interesting as well. I think my favourites were Theta and Memphis, although I am also intrigued by Sam Lloyd. And poor Mabel, always being relegated to Evie's sidekick. I really enjoyed Libba Bray's writing style, where she would switch over and follow a character other than Evie for a while so we get a larger story.
The plot was wonderfully creepy. From the very start, I could tell I was going to enjoy this ghost story. Naughty John is so evil and the cult of the Brethren was fascinating (cults in general are fascinating to me). I really enjoyed all of the supernatural aspects of this book and can't wait to see how some of them develop.
As I mentioned above, I also really enjoyed the 1920's setting. I enjoyed the inclusion of historical events like prohibition and particularly the author's use of period slang. It made me want to be a flapper!
Overall, I though this book was very well done. It's long, but never dragged. The characters were interesting and enjoyable and I loved the supernatural elements. I can't wait to read Lair of Dreams.