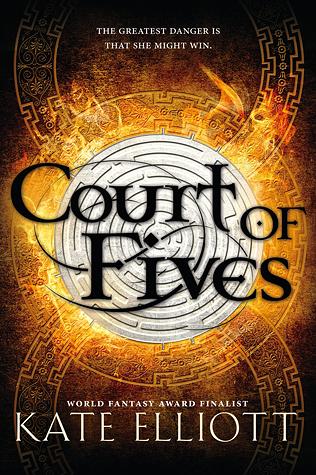 Info:
Title: Court of Fives
Author: Kate Elliott
Publication Date:
August 18, 2015
Publisher:
Little Brown Books for Young Readers
Source: I received a complimentary ARC in exchange for an honest review.
Synopsis:
On the Fives court, everyone is equal.

And everyone is dangerous.
Jessamy's life is a balance between acting like an upper-class Patron and dreaming of the freedom of the Commoners. But away from her family, she can be whomever she wants when she sneaks out to train for the Fives, an intricate, multilevel athletic competition that offers a chance for glory to the kingdom's best competitors.
Then Jes meets Kalliarkos, and an improbable friendship between the two Fives competitors—one of mixed race and the other a Patron boy—causes heads to turn. When Kal's powerful, scheming uncle tears Jes's family apart, she'll have to test her new friend's loyalty and risk the vengeance of a royal clan to save her mother and sisters from certain death.
In this imaginative escape into an enthralling new world, World Fantasy Award finalist Kate Elliott's first young adult novel weaves an epic story of a girl struggling to do what she loves in a society suffocated by rules of class and privilege.
Review:
I enjoyed this book a lot. It's about a young woman named Jessamy who is caught between two world: playing the sport she loves, called the Fives, and being a dutiful daughter and following the strict rules of her father.
The Fives is basically a competitive obstacle course involving 5 obstacles. Trees, which involves climbing high pillars, Traps, which involves a treacherous climbing course, Rivers, which is a tricky stepping stones path across a river, Pillars, which is a maze, and finally Rings, which is a high course through rings spinning and different speeds. And Jessamy is very good.
The society in this book is split into Patrons and Commoners. Patrons are the ruling class that has taken over the native Efeans and are from the old country or descended from the people from the old country. Commoners are the native Efeans, who have been oppressed by the ruling class. Jessamy and her sisters are of mixed ancestory, with a Patron father and a Efean mother. Generally, Patron men do not hold onto their Commoner lovers, but Jessamy's father has stay with her mother and treats her as his wife, even though they cannot marry. Jessamy and her sisters Amaya, Bettany and Maraya have been raised as Patrons, but will never truly fit into society properly. Clearly there are strong Colonialism themes here, something I liked seeing in a YA book.
I enjoyed Jessamy as a character. She's competitve, but also values her family very highly, which puts her is a bit of a tough spot. Her father is trying to rise through the very political ranks of the army and it would be dishonourable for him to have a daughter who competes in the Fives. So Jessamy practices them secretly. When she finally has a chance to compete, she loses on purpose, since the winner has to show their face (all competitors wear masks).
The competitor she should have beat is Kalliarkos, a young lord. He recognizes her afterwards and they hit it off, so he promises to keep her secret. Kal is very sweet and I enjoyed his character quite a bit. He is a good person and kind, but at the same time, you can tell he has been raised in privledge and doesn't always understand the hardships that Commoners face. However, Kal's uncle is a very powerful man and dangerous man.
I also enjoyed Jessamy's sisters. Maraya is book worm and dreams of being an archivist, but her mixed ancestory and club foot (which most Patrons would have smothered an infant for) make this dream very difficult for her. Bettany is strange and we don't see a lot from her, although I think she may be mentally ill. Amaya is the pretty, spoiled one, although she does still love her family very much.
Through the course of the book, Jessamy and her sisters' world is turned upside down and it falls to Jessamy (as well as her father) to make some very tough decisions. Jessamy is one tough girl who puts her family above all else.
Court of Fives reminded me a bit of The Winner's Curse, with the colonialism and the heart breaking ending. But I actually preferred Court of Fives with the addition of the Fives competitions and also the hints of magic that exist in this world. I definitely can't wait to see the fallout after the ending of this one.
Goodreads | Amazon
| Book Depository | Chapters