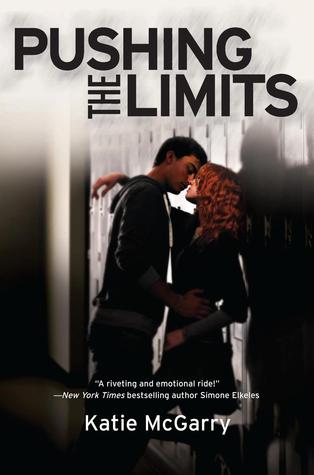 Info:
Title: Pushing the Limits
Author: Katie McGarry
Series:
Pushing the Limits #1
Publisher:
Harlequin Teen
Publication Date:
June 1, 2012
Source: Won.
Synopsis:
"
So wrong for each other …and yet so right.
No one knows what happened the night Echo Emerson went from popular girl with jock boyfriend to gossiped-about outsider with "freaky" scars on her arms. Even Echo can't remember the whole truth of that horrible night. All she knows is that she wants everything to go back to normal.
But when Noah Hutchins, the smoking-hot, girl-using loner in the black leather jacket, explodes into her life with his tough attitude and surprising understanding, Echo's world shifts in ways she could never have imagined. They should have nothing in common. And with the secrets they both keep, being together is pretty much impossible.
Yet the crazy attraction between them refuses to go away. And Echo has to ask herself just how far they can push the limits and what she'll risk for the one guy who might teach her how to love again.
"A riveting and emotional ride!"
—New York Times bestselling author
Simone Elkeles
"McGarry details the sexy highs, the devastating lows and the real work it takes to build true love."
—
Jennifer Echols
, author of
Such a Rush
"An edgy romance that pulls you in and never lets go. I was hooked!"
—
Gena Showalter
, New York Times bestselling author of
Alice in Zombieland
"Pushing the Limits is an accomplished debut, a perfect choicefor readers who thrive on edgy, riveting storytelling."
--
Bookpage
"Real aches and real love in Katie McGarry's sensitive, complex, always surprising, really excellent first novel."
--
School Library Journal.
Review:
Yep, I finally read it. I think I say this every time I review a contemporary, but this is not my usual genre and this book especially pushed me outside my comfort zone. But I'm so glad I took the chance on this book, since I really enjoyed it!
Echo and Noah are two very complex characters and they are really what made this book work for me. They were both some multi-dimensional and both felt like they could have been real people. And I loved both of them! And I fell in love with both of them. Echo I connected with fairly quickly, since I saw some of my own personality traits in her (people-pleaser, a bit timid). Plus this girl is having a majorly tough time with everything going on and her father drove me crazy with all his pushiness. Noah, on the other hand, was initially not my type at all. But getting inside and his head and see what made him tick and his extreme love for his brothers made me fall in love with him as well.
This book is told in alternating POV between Echo and Noah. That's often my my favourite form, but in this case I really enjoyed it. I know I would not have connected as deeply with either character without getting to see things from their perspective.
Another thing that impressed me with this book was the build of the romance. Somehow, Katie McGarry made their journey to get to know each other so believable and perfectly paced. I love it (and I'm not usually a huge fan of romances). I also enjoyed the secondary characters of Beth and Isaiah, who made up Noah's dysfunctional little family. I also appreciated Lila's loyalty to Echo, even though I would have liked to see a bit more character development for her.
For a girl who doesn't really do contemporary and almost never is a fan of romances, I'm shocked at how much I enjoyed this book. I think it's a real testament to the author that she was able to win me over. Now I'm excited to read the second book in the series because I get to see more of Beth. I'd love to get inside that girl's head!