Goodreads Blurb: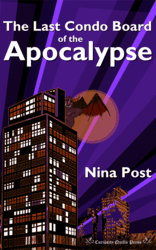 When hundreds of fallen angels and dimension-hopping monsters take over a highrise condo building, a down-on-her-luck bounty hunter must team up with an unlikely group of allies to prevent the apocalypse.
Kelly Driscoll tracks down monsters for a living, but the job isn't what it used to be. Vampire hunters are the new big thing, but Kelly doesn't swing that way. When a reclusive client hires her to locate a rival angel, Kelly's search takes her to a downtown highrise that has become home to hundreds of fallen angels and dimension-hopping monsters.

As the fallen angels take over the condo board, argue over who's handling pizza delivery, and begin planning for a little shindig otherwise known as the apocalypse, Kelly must team up with an unlikely group of allies to find her target and keep the fallen angels at bay. In the process, she befriends a reluctant Angel of Destruction, gets tips from a persistent ferret, uncovers the mysteries behind Pothole City's hottest snack food empire, and tries to prevent the end of the world
My Thoughts:
Please don't read this book if you don't have a sense of humour. The people who will enjoy this book the most are those people with a zany, off-kilter sense of humour.
I really loved the idea of this book. A bunch of fallen angels and monsters trying to exist within the confines of a condo. Having recently moved to a condo for the first time and now having to deal with condo regulations etc, I can see where this could become very funny. Add a kick-butt female lead and a whole lotta random and you have the Last Condo Board of the Apocalypse in a nutshell.
For me, the first half of this book was a bit slow and maybe distracted, but it picked up steam in the 2nd half (the really turning point takes place in a periodontal clinic). It was a little too random for my taste, but if that's your style, you will love it!
My favourite part of the book was the Single Purpose Angels (SPs). They are so adorable! And they sure do love them some Cluck Snacks! They have one purpose and one purpose only, to which they are entirely devoted, such as HVAC systems or the 3 o'clock hour.
Also, the author, Nina Post, is super cool, so check her out on
twitter
!
Favourite Scene:
The scene where Kelly and Af ride the elevator up and down repeatedly while drinking margaritas.
Favourite Character:
Tubiel, single purpose angel of returning small pet birds to their owners and all-around cutie!
Rating:
3 hearts
A egalley was provided to me by the publisher, Curiosity Quills, in exchange for an honest review.