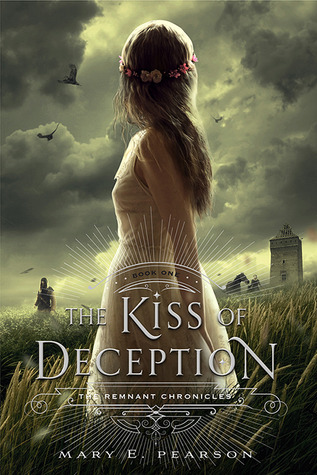 Info:
Title: The Kiss of Deception
Author: Mary E. Pearson
Series:
The Remnant Chronicles #1
Publisher: Henry Holt
Publication Date: July 8, 2014
Source: I received a complimentary ARC in exchange for a honest review.
Synopsis:
In this timeless new trilogy about love and sacrifice, a princess must find her place in a reborn world.
In a society steeped in tradition, Princess Lia's life follows a preordained course. As First Daughter, she is expected to have the revered gift of sight—but she doesn't—and she knows her parents are perpetrating a sham when they arrange her marriage to secure an alliance with a neighboring kingdom—to a prince she has never met.
On the morning of her wedding, Lia flees to a distant village. She settles into a new life, hopeful when two mysterious and handsome strangers arrive—and unaware that one is the jilted prince and the other an assassin sent to kill her. Deception abounds, and Lia finds herself on the brink of unlocking perilous secrets—even as she finds herself falling in love.
Review:
I love YA and I love fantasy, so The Kiss of Deception was perfect for me. I enjoyed this book quite a bit. I especially found the lore of this one interesting. And I'm pretty sure we're going to find out even more lore by the end of the series and I'm very interested to know it all.
Lia was a very likable character. She's strong willed and smart and stubborn and feisty and loyal. I find that a lot of YA heroines that are popular have a similar personality to Lia, so I think most readers will like her as well. I enjoyed her friendship with Pauline and also her clear love for her brothers. While she doesn't care to follow the rules, I completely sympathize with her reasons and I loved her ability to adapt to new situations and not be trapped in princess-mode.
The supporting characters were great. I loved Pauline and Berdi. I also like Gwenyth and really hope we get to learn more about her. And I'm also super curious about Lia's mother, since I'm certain there's more to her than meets the eye.
And then there are the boys. Yep, plural. There is a bit of a love triangle here, but I'm happy to say Lia makes her decision almost immediately. I will mention that I got fairly confused about the boys for a while. You find out both of their names and both of their roles right away, but you don't find out who is who for a while and I totally had them mixed up and had to completely change my thinking. I personally prefered Kaden, but that's based entirely on a weird personally thing I have going on.
I found the plot dragged a tiny bit in the middle, but for the most part, things moved fast enough to keep my attention. I am excited to find out what happens next, since the book leaves off in a very intense situation. Can't wait for book two!
Goodread | Amazon | The Book Depository
Goodreads | Web | Twitter
Don't Just Take My Word For It:
The Daily Prophecy