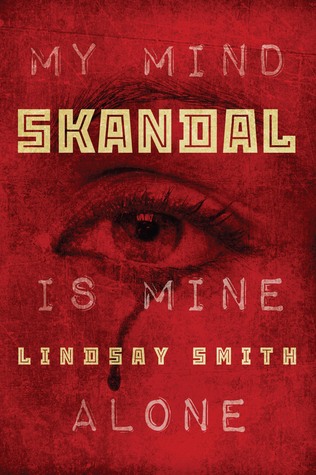 Info:
Title:
Skandal
Author: Lindsay Smith
Series: Sekret #2
Publisher: Roaring Brook Press
Publication Date:
April 7, 2015
Source:
I received a complimentary ARC in exchange for an honest review.
Synopsis:
The dramatic sequel to Sekret, this psychic Cold War espionage thriller follows Yulia to Washington, DC, where she fights to discover the truth about her family without losing control of her mind.

My mind is mine alone.

Life in Washington, D.C., is not the safe haven Yulia hoped for when she risked everything to flee communist Russia. Her father is reckless and aloof, and Valentin is distant and haunted by his past. Her mother is being targeted by the CIA and the US government is suspicious of Yulia's allegiance. And when super-psychics start turning up in the US capitol, it seems that even Rostov is still a threat. Ultimately, Yulia must keep control of her own mind to save the people she loves and avoid an international Skandal.
Review:
I have really enjoyed this duology. I like the mix of physic powers with the history of the Cold War. I enjoy historical fiction and I enjoy paranormal, so the mix here was really great for me.

Yulia is a very strong character and I enjoyed watching her deal with integrating into a new culture, dealing with a father who is nothing like what she remembers and a new job working for the CIA. The odds are stacked against this girl, but she stubbornly plods onward towards her goals.

We meet a host of new characters as well amongst Yulia's new American coworkers, as well as her re-united father. Her father is frustrating to me for most of the book, but towards the end we get some insight into why he is the way he is. My favourite of Yulia's coworkers in Cindy, who I am itching to learn more about. Lindsay Smith has said this series is over, but she may continue in this world and if she does, I hope it's with Cindy. That girl has secrets I'm dying to know about. Donna was a frustrating character as well, although she more or less redeemed herself. And Valentin is such a sad, sweet characters that I mostly just wanted to hug. Oh and Winnie! I love this woman as well. So fiesty and determined and such a great rolemodel for Yulia. The rest of the team (Marylou, Judd, Tony and Al) aren't developed quite as much and I help fairly neutral about.

One thing that sometimes got a bit confusing for me was the descriptions when Yulia was dealing with the scrubbers. It's a fairly abstract concept and I found myself having to re-read sometimes. But it didn't bother me, because it was meant to be confusing and disorienting, so it kind of worked.

I loved this glimpse into a paranormal-infused history. Yulia is such a tough girl forced to deal with culture shock, family issues, a romantic relationship AND psychic warfare all at once!