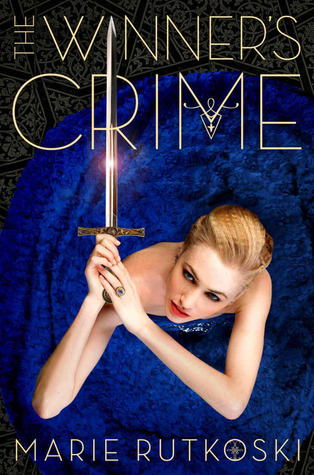 Info:
Title:
The Winner's Crime
Author: Marie Rutkoski
Series:
The Winner's Trilogy #2
Publisher: Farrar Straus Giroux
Publication Date:
March 3, 2015
Source:
I received a eARC in exchange for an honest review
Synopsis:
Book two of the dazzling Winner's Trilogy is a fight to the death as Kestrel risks betrayal of country for love.
The engagement of Lady Kestrel to Valoria's crown prince means one celebration after another. But to Kestrel it means living in a cage of her own making. As the wedding approaches, she aches to tell Arin the truth about her engagement... if she could only trust him. Yet can she even trust herself? For—unknown to Arin—Kestrel is becoming a skilled practitioner of deceit: an anonymous spy passing information to Herran, and close to uncovering a shocking secret.
As Arin enlists dangerous allies in the struggle to keep his country's freedom, he can't fight the suspicion that Kestrel knows more than she shows. In the end, it might not be a dagger in the dark that cuts him open, but the truth. And when that happens, Kestrel and Arin learn just how much their crimes will cost them.
Review:
I didn't end up loving this book as much as I wanted to, but I'm still definitely emotional invested in this series. I like the characters and love the world, but forbidden/star-crossed love isn't my thing.
I really go enjoy the character of Kestrel. She is feisty and smart and finds herself in a tough spot. Arin is less of a favourite for me. He jumps to conclusions too quickly and is generally a bit reckless for my taste. The character in this book I wanted to know the most about was Verex. I feel like there is an opportunity for Kestrel to make a powerful alliance there that she is currently not seeing. And, of course, I love to hate the emperor. What a creep!
The thing that has drawn me in the most with this series is the world-building. We see a bit more of world Rutkoski has created in this book and I generally find it fascinating and am looking forward to the next book so I can learn even more about this world.
I felt like the pacing of this one was a bit off. It drug a lot for me early on, where it was focusing a lot of Kestrel and Arin's feelings and general star-crossed-ness. In the second half, things picked up for me and I got into the book quite a bit more. And the ending! So frustrating!
Overall, this series hasn't made it into my favourites, but I'm still invested in it and can't wait to see what happens next.
Goodreads | Amazon
| The Book Depository | Chapters