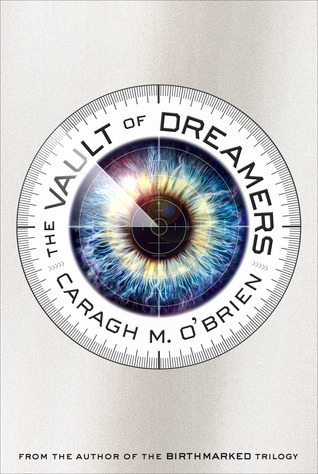 Info:
Title: The Vault of Dreamers
Author: Caragh M. O'Brien
Series:
Untitled #1
Publisher: Roaring Brook Press
Publication Date: September 16, 2014
Source:
I received a complimentary copy in exchange for a honest review.
Synopsis:
From the author of the
Birthmarked
trilogy comes a fast-paced, psychologically thrilling novel about what happens when your dreams are not your own.
The Forge School is the most prestigious arts school in the country. The secret to its success: every moment of the students' lives is televised as part of the insanely popular Forge Show, and the students' schedule includes twelve hours of induced sleep meant to enhance creativity. But when first year student Rosie Sinclair skips her sleeping pill, she discovers there is something off about Forge. In fact, she suspects that there are sinister things going on deep below the reaches of the cameras in the school. What's worse is, she starts to notice that the edges of her consciousness do not feel quite right. And soon, she unearths the ghastly secret that the Forge School is hiding—and what it truly means to dream there.
Review:
I've put off writing this review (something I almost never do) because I'm really not sure what to say about this one. The ending really threw me for a loop and left me unsure of how to review this one. But here it goes:
The story takes place at the Forge school, which is a weird hybrid of fancy art school and crazy reality tv show. There are cameras everywhere recording each of the students and people can tune in online to watch their favourites. Students are all ranked based on the number of people watching their feed and their family get some ad revenue from their pages. To make things even crazier, they let in 100 first year students for the first two weeks, then cut half of them.
This is where we meet Rosie, our heroine. She's a film student fighting to make it into the top 50 and stay at the Forge school, but she's not doing so great. It was pretty easy to feel for Rosie, since she has it pretty tough at home. Her mom seems nice enough, but works a lot. Her step-dad is a dick and is also unemployed (technically on strike, but it's been over a year), so money is pretty tight. She also has a little sister named Dubbs, who she clearly loves a lot. Rosie has been placed on a crappy track at school that has her bound for, at best, a dead-end job. So clearly the opportunity at Forge is huge for her.
Another weird thing about the Forge school is that all students are forced to sleep 12 hours per day. They claim it boosts creativity. Rosie is a bit of a rebel and starts skipping her sleeping pill and wandering around at night. She sees some crazy stuff, but is in a bit of a tough spot, since Forge is her only chance out of a dead-end life back home.
There's also a boy (of course). I was a bit worried for a bit that a love triangle was being set up, but thankfully that was not the case. Linus seems like a pretty nice guy overall, although he occasionally gets pissed at Rosie and I totally understand. While he's not my newest book boyfriend, I could definitely understand why Rosie liked him.
But the ending! I still have no clue what happened. Like, I was mostly following until the very last page and then- I don't know. I think it's meant to be like that, but I don't even know. I guess it's enough to make me want to read the next book when it comes out, but a fair warning to anyone who can't handle endings like that.
Overall, I enjoyed The Vault of Dreamers for the most part, but the ending still has me majorly confused.
Goodreads | Amazon
|
Book Depository
|
Chapters
Goodreads | Web | Twitter | Facebook