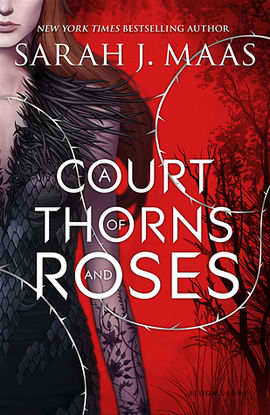 Info:
Title: A Court of Thorns and Roses
Author: Sarah J Maas
Series: A Court of Thorns and Roses
Publisher:
Bloomsbury USA Childrens
Publication Date:
May 5 2015
Source: Won.
Synopsis:
A thrilling, seductive new series from New York Timesbestselling author Sarah J. Maas, blending Beauty and the Beastwith faerie lore.

When nineteen-year-old huntress Feyre kills a wolf in the woods, a beast-like creature arrives to demand retribution for it. Dragged to a treacherous magical land she only knows about from legends, Feyre discovers that her captor is not an animal, but Tamlin—one of the lethal, immortal faeries who once ruled their world.

As she dwells on his estate, her feelings for Tamlin transform from icy hostility into a fiery passion that burns through every lie and warning she's been told about the beautiful, dangerous world of the Fae. But an ancient, wicked shadow over the faerie lands is growing, and Feyre must find a way to stop it . . . or doom Tamlin—and his world—forever.

Perfect for fans of Kristin Cashore and George R. R. Martin, this first book in a sexy and action-packed new series is impossible to put down!
I'm realizing just how much I love Sarah J. Maas. I'm a bit late to the party, but I really have loved the 3 books I've read by her. Her characters are amazing: heroines that strike the perfect balance between badass and vulnerable. I want to be best friends with them

Feyre is the only thing holding her family together. Really, her family sucks, but in a very human, true-to-life kind of way (as opposed to the flat, inexplicably evil families that drive me up the wall). But Feyre is the only thing keeping her family alive, something that is getting harder and harder to do. In the process of trying to keep her family alive, Feyre gets into unfortunate situation and ends up travelling to the Fae realm as a prisoner/guest. I loved the fae characters in this book as well, but I think my favourite was Lucien, although I can see the appeal of Tamlin.

If this all sounds a bit familiar, this book is a retelling of Beauty and the Beast. But at the same time, it's also based on a somewhat lesser known story of Tam Lin, who was stolen away by the fairy queen.

The world created by Maas is rich and deep and really well done. Honestly, I can't think of anything I would have changed about this book. It's that good.


Goodread | Amazon
| The Book Depository | Chapters
Goodreads | Web | Twitter | Facebook