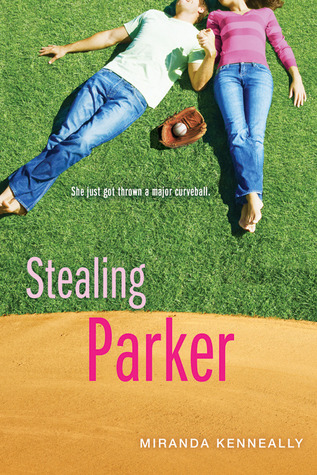 Info:
Title: Stealing Parker
Author: Miranda Kenneally
Publisher:
Sourcebooks Fire
Publication Date:
October 1, 2012
Source: Purchased
Synopsis:
Red-hot author Miranda Kenneally hits one out of the park in this return to Catching Jordan's Hundred Oaks High.

Parker Shelton pretty much has the perfect life. She's on her way to becoming valedictorian at Hundred Oaks High, she's made the all-star softball team, and she has plenty of friends. Then her mother's scandal rocks their small town and suddenly no one will talk to her.

Now Parker wants a new life.

So she quits softball. Drops twenty pounds. And she figures why kiss one guy when she can kiss three? Or four. Why limit herself to high school boys when the majorly cute new baseball coach seems especially flirty?

But how far is too far before she loses herself completely?
Review:
I'm the first to admit that contemporary romance books are not my thing. I'm much more of a fantasy/action/adventure kind of girl. But I heard so many great things about Miranda Kenneally's Hundred Oaks series that I have been giving it a try. I read Catching Jordan quite a while ago and honestly didn't enjoy it all that much, so I was pretty skeptical going into Stealing Parker.
But I ended up really enjoying it! I connected way more with Parker than I did with Jordan. I really felt Parker's struggles and I was rooting for her the whole time (even as I screamed at her when she made decisions I disagreed with). I think they reason why this book worked better for me than Catching Jordan is because Stealing Parker is less of a romance-driven plot and more of a character-driver plot. Sure there are romantic aspects, but they all contribute to Parker's journey within the book.
This book touched on a lot of issues: eating disorders, sexual identity, slut-shaming and inappropriate relationship. Despite the long list, I felt like each issue was handled well by the author.
This book has brightened up my expectations of the Hundred Oaks series and I am looking forward to reading the next book.