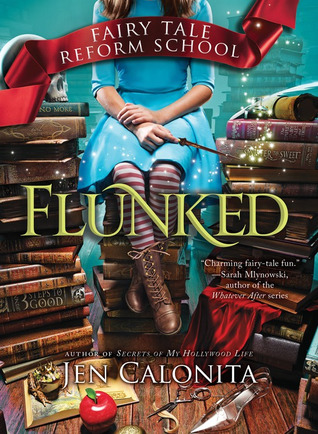 Info:
Title:
Flunked
Author: Jen Calonita
Series: Fairy Tale Reform School #1
Publisher: Sourcebooks Jabberwocky
Publication Date:
March 3, 2015
Source:
I received a complimentary eARC in exchange for an honest review.
Synopsis:
Would you send a villain to do a hero's job? An exciting new twisted fairy tale series from award-winning author Jen Calonita.

Full of regret, Cinderella's wicked stepmother, Flora, has founded the Fairy Tale Reform School with the mission of turning the wicked and criminally mischievous into upstanding members of Enchantasia.

Impish, sassy 12-year-old Gilly has a history of petty theft and she's not too sorry about it. When she lifts a hair clip, she gets tossed in reform school-for at least three months. But when she meets fellow students Jax and Kayla, she learns there's more to this school than its sweet mission. There's a battle brewing and she starts to wonder: can a villain really change?
Review:
Flunked was a cute, fun read that was ultimately kind of forgettable. This book follows the adventures of Gilly, a girl who has turned to stealing in order to make a bit of extra money to feel her family. Gilly doesn't live just anywhere, she actually lives in Enchantasia, a kingdom inhabited by fairy tale creatures and ruled by a committee of fairy tale princesses. In my mind, it basically looked like the kingdom of Far Far Away from Shrek.
One day, Gilly slips up and is sent to reform school, which is run by reformed fairy tale villians. There she makes some friends, unearths some schemes and learns how to put the needs of others before herself (and her family).
Thief characters are usually my favourite, but I didn't really connect much with Gilly. She was sassy and snarky and I don't think it quite rang true for me. I think one issue is that Gilly is only 12 and her immaturity shows through in the writing somehow. I think this probably wouldn't bother younger readers, but for me it wasn't great.
Flunked felt a bit immature all around, but it was still fun and entertaining and I did find myself wanting to uncover the mystery of what was going on.
Find the Book:
Goodreads | Amazon
| The Book Depository | Chapters
Goodreads | Web | Twitter | Facebook