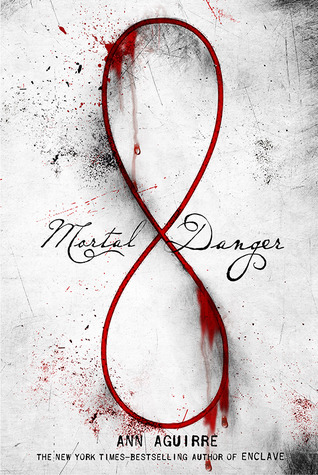 Info:
Title: Mortal Danger
Author: Ann Aguirre
Series:
Immortal Game #1
Publisher: Feiwel & Friends
Publication Date: August 5, 2014
Source: I received an advanced copy in exchange for a honest review.
Synopsis:
Revenge is a dish best served cold.
Edie Kramer has a score to settle with the beautiful people at Blackbriar Academy. Their cruelty drove her to the brink of despair, and four months ago, she couldn't imagine being strong enough to face her senior year. But thanks to a Faustian compact with the enigmatic Kian, she has the power to make the bullies pay. She's not supposed to think about Kian once the deal is done, but devastating pain burns behind his unearthly beauty, and he's impossible to forget.
In one short summer, her entire life changes, and she sweeps through Blackbriar, prepped to take the beautiful people down from the inside. A whisper here, a look there, and suddenly... bad things are happening. It's a heady rush, seeing her tormentors get what they deserve, but things that seem too good to be true usually are, and soon, the pranks and payback turns from delicious to deadly. Edie is alone in a world teeming with secrets and fiends lurking in the shadows. In this murky morass of devil's bargains, she isn't sure who—or what--she can trust. Not even her own mind...
Review:
Mortal Danger is the story of Edie, a desperate young woman who makes a deal with a group that she doesn't even begin to understand. This one starts off dark. Really dark. When we first meet Edie, she is en route to jump off a bridge. The beginning of this book focuses a lot on bullying and how devastating it can be to victims. And it's sad because I know this part of Edie's story isn't fiction and so many kids feel hopeless in their lives. So everyone please try to be kind to each other!
The pacing of this one was off for me. I enjoyed the first few pages that set the story up, but then things start to drag a bit after that. But stick with it, as I found the second half to move much faster and be fairly exciting.
Edie is a pretty sympathetic character. She has had some pretty crappy stuff happen to her. However, for being as smart as she was, I think she should have tried to learn more about her situation. I know that's what I would have done.
Then there was the whole thing with Edie and Kian, who was basically her handler in the deal she made. Things went way too fast between them for me and I was actually confused sometimes, because I didn't follow their relationship very well.
That said, the second half of the book was definitely enjoyable for me, even if the first half had some pacing and romance issues. This book actually reminded me of some of Holly Black's books, which is a pretty high compliment from me. So if you get past the few imperfections, I still enjoyed this one quite a bit and am excited to see what happens next.
Also, I'm kind of in love with the creepy cover!
Don't Just Take My Word For It:
Read.Sleep.Repeat
Also, make sure you've entered my current giveaway for a copy of Wanted: Dead or in Love (US/CAN) here!