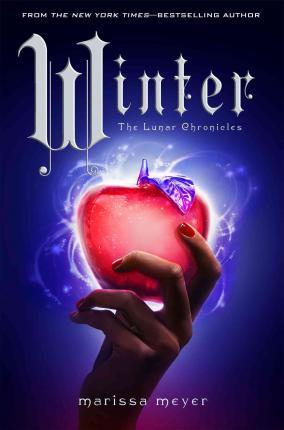 Info:
Title: Winter
Author: Marissa Meyer
Series:
The Lunar Chronicles #4
Publisher:
Feiwel and Friends
Publication Date:
November 10, 2015
Source: Purchased
Synopsis:
Princess Winter is admired by the Lunar people for her grace and kindness, and despite the scars that mar her face, her beauty is said to be even more breathtaking than that of her stepmother, Queen Levana.
Winter despises her stepmother, and knows Levana won't approve of her feelings for her childhood friend—the handsome palace guard, Jacin. But Winter isn't as weak as Levana believes her to be and she's been undermining her stepmother's wishes for years. Together with the cyborg mechanic, Cinder, and her allies, Winter might even have the power to launch a revolution and win a war that's been raging for far too long.
Can Cinder, Scarlet, Cress, and Winter defeat Levana and find their happily ever afters?
Review:
This was one of those bittersweet books, because a series you loved is coming to close. While this wasn't my favourite book in the series, I still enjoyed it and thought it ended the series well.

My favourite characters (Thorne and Iko) were back in action, although neither of them played as major of roles as some of the others. But they didn't do anything to diminish my love of them, so that's always good.

This book focused on Winter, Levana's stepdaughter and Meyer's version of Snow White. I really enjoyed Winter's character. It was interesting to see a glimpse of her madness and see her struggle to differentiate reality and hallucination. Despite her difficulties, Winter is a kind and likable character. We also got a see a softer side of Jacin in this book and he *almost* became likable at times.

The finale was filled with excitement and was not a disappointment, although I think it was always going to be a happy ending, even when it felt a touch unrealistic. I can't say too much without things getting a little spoiler-y.

Overall, I enjoyed the conclusion to the series and can't wait to read whatever Meyer puts out next!
Find the Book:
Goodreads | Amazon
| The Book Depository | Chapters
Find the Author:
Goodreads | Web | Facebook | Twitter