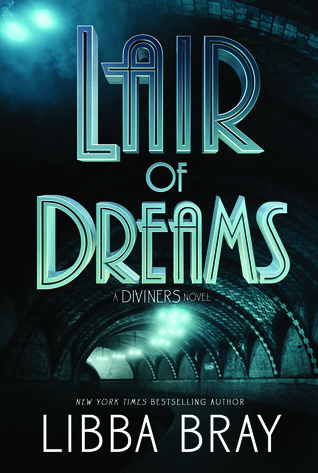 Info:
Title: Lair of Dreams
Author: Libba Bray
Series: The Diviners #2
Publisher:
Little, Brown Books for Young Readers
Publication Date:
August 25, 2015
Source: I received a complimentary ARC in exchange for a honest review.
Synopsis:
The longing of dreams draws the dead, and this city holds many dreams.
After a supernatural showdown with a serial killer, Evie O'Neill has outed herself as a Diviner. With her uncanny ability to read people's secrets, she's become a media darling, earning the title "America's Sweetheart Seer." Everyone's in love with the city's newest It Girl…everyone except the other Diviners.
Piano-playing Henry DuBois and Chinatown resident Ling Chan are two Diviners struggling to keep their powers a secret—for they can walk in dreams. And while Evie is living the high life, victims of a mysterious sleeping sickness are turning up across New York City.
As Henry searches for a lost love and Ling strives to succeed in a world that shuns her, a malevolent force infects their dreams. And at the edges of it all lurks a man in a stovepipe hat who has plans that extend farther than anyone can guess…As the sickness spreads, can the Diviners descend into the dreamworld to save the city?
In this heart-stopping sequel to
The Diviners
, Printz Award-winning and
New York Times
bestselling author Libba Bray takes readers deeper into the mystical underbelly of New York City.
Review:
Evie and her friends are back in action in Lair of Dreams and it's just as fun and exciting as The Diviners. I love the angle the author takes towards the supernatural and the powers that our main characters have. Combine that with the background of the roaring twenties and it's a winning combination!
Since I really have enjoyed this series so far, I think it will be easier to start with the things I didn't love and that put this as a 4 star read instead of a 5. The first issue is with Evie herself. She drove me up the wall in this book. She's been a flawed character from the start, but she is so stubborn and selfish in this book that I (along with some other characters) just wanted to shake some sense into her. The second issue is that things got a bit love triangle-y. Actually, more than a love triangle, some kind undefined love shape, of which I personally am not a fan.
Ok, now that the negative bits are out of the way, I can start gushing about all the things I love. We get to see a lot more into the character of Sam Lloyd, which was interesting and really helped show him as a full character.
But the majority of this story belongs to Henry and a new character, Ling Chan: the dream walkers. I loved both of the characters, both together and apart. We find out so much more about Henry and his life in New York, as well as his past in New Orleans. And Ling is possibly my favourite character. She's direct to a fault, but also very strong and loyal and I enjoyed her juxtaposition of the mysterious power of dream walking and her interest in the scientific world. Through Ling and Henry's dream walking, we also meet Louise and Wai-Mee, who were interesting characters as well, especially Wai-Mee.
The plot of the sleeping sickness was pretty terrifying. Often young, otherwise healthy people going to sleep and never waking up. I don't even want to imagine. I found part of the plot a touch predictable, as I determined one aspect very early on and the second, more major aspect a few pages before the characters (nothing wrong with that one, still a very surprising revelation once I figured it out.
There's so much that happened in this book it would take ages to put down all my thoughts on it. So, it shorted, I really enjoyed this book, which a slight damper put on by Evie being such a brat much of the time, and I can't wait for there to be another book, especially with that little bit with Theta at the very end. And I want something good for poor Mabel and I want Ling to meet Jake Marlow and...
I told you there was a lot.