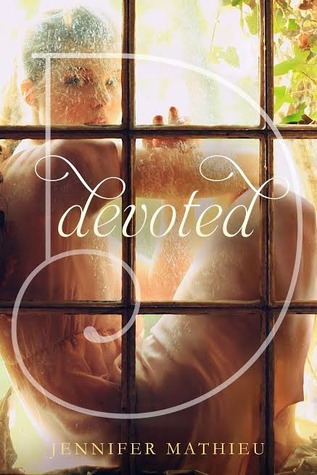 Info:
Title:
Devoted
Author: Jennifer Mathieu
Publisher: Roaring Brook Press
Publication Date:
June 2, 2015
Source:
I received a complimentary ARC in exchange for an honest review
Synopsis:
Rachel Walker is devoted to God. She prays every day, attends Calvary Christian Church with her family, helps care for her five younger siblings, dresses modestly, and prepares herself to be a wife and mother who serves the Lord with joy. But Rachel is curious about the world her family has turned away from, and increasingly finds that neither the church nor her homeschool education has the answers she craves. Rachel has always found solace in her beliefs, but now she can't shake the feeling that her devotion might destroy her soul.
Review:
I don't usually read a lot of contemporary, but when I come across a book like this, I know I need to read more. I find extreme religion, including cults and sects, super interesting. And while Rachel's family beliefs are not what I would call a cult, they certain are extreme and restrictive and, honestly, angering. Rachel is only allowed to interact with people from her church. She's home schooled, can't cut her hair and must dress modestly at all times.
I loved Rachel's character so much and I think many other readers will too, since we can see ourselves in her. Rachel is a bookworm at heart, but her family does not condone reading (other than the bible of course), especially Rachel's favourite book: A Wrinkle in Time. That's just one of the trials Rachel must face. She is also fearful of her future, which can only be one thing: being a loving and obedient wife and mother.
I really enjoyed the contrast between Rachel and Lauren, another girl who took issue with the church's restrictive beliefs. It shows the differing ways that different people react in similar situations. Both girl's stories were tough for a bookworm, equal rights kind of girl like me.
However, I do like how Jennifer Mathieu treated the topic of religion in her book. Too often books take sides, either becoming preachy or bashing religion altogether. I think the author walked a fine line and stayed fairly respectful of religion. She did not indicate that Rachel's family was wrong, just that their beliefs didn't work for Rachel. And Rachel maintains her relationship with God throughout, yet the book never felt preachy to me.
I also really enjoyed Rachel's relationship with her little sister Ruth. Ruth was the lifeline that kept Rachel sane in her life with her family. They always supported each other, even though they were very different characters. It made me want a little sister. Although I definitely could do without an older sister like Faith. And their last scene together break my heart a little bit.
There is a hint of romantic interest in this one, but it's so subtle, because, let's face it, Rachel is not ready for a relationship right now. I'm so glad the other didn't force her into a relationship, since I believe the book is so much stronger as it is now.
Devoted was one of my rare forays into contemporary fiction and I really enjoyed it a lot. I though the book was well balanced while dealing with potentially volatile content and I will definitely be reading more from Jennifer Mathieu.
Goodreads | Amazon
| The Book Depository | Chapters