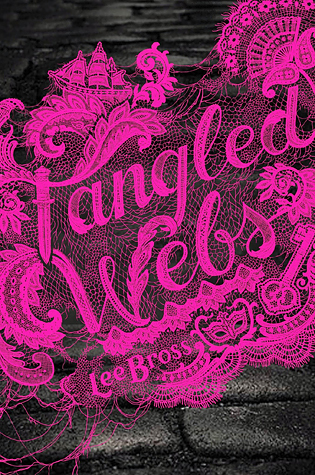 Info:
Title:
Tangled Webs
Author: Lee Bross
Series:
Tangled Webs #1
Publisher: Disney Hyperion
Publication Date:
June 23, 2015
Source:
I received a complimentary ARC from the publisher in exchange for an honest review.
Synopsis:
London, 1725. Everybody has a secret. Lady A will keep yours—for a price. This sumptuous, scandalous YA novel is wickedly addictive.
Lady A is the most notorious blackmailer in the city. With just a mask and a gown to disguise her, she sweeps into lavish balls and exclusive events collecting the most valuable currency in 1725 London—secrets.
But leading a double life isn't easy. By day Lady A is just a sixteen-year-old girl named Arista who lives in fear of her abusive master, Bones, and passes herself off as a boy to move safely through the squalor of London's slums. When Bones attempts to dispose of his pawn forever, Arista is rescued by the last person she expects: Jonathan Wild, the infamous Thief Taker General who moves seamlessly between the city's criminal underworld and its most elite upper circles. Arista partners with Wild on her own terms in the hopes of saving enough money to buy passage out of London.
Everything changes when she meets Graeden Sinclair, the son of a wealthy merchant. Grae has traveled the world, has seen the exotic lands Arista has longed to escape to her whole life, and he loves Arista for who she is—not for what she can do for him. Being with Grae gives something Arista something precious that she swore off long ago: hope. He has promised to help Arista escape the life of crime that has claimed her since she was a child. But can you ever truly escape the past?
Review:
I was pretty excited to read this book and I enjoyed it quite a bit, although it wasn't exactly what I expected. Briefly, it's a historical fiction story about Arista, who is basically a slave to this creepy London underworld lord named Bones. She is basically forced to blackmail people on Bones's behalf.

Arista wasn't the character that I was expected. I was expecting a sneaky, charismatic thief character (they are my favourite), but instead she she was filled with a lot of fear and hopelessness for her situation. This was not a bad thing, just not what I expected somehow. Despite her fear and desperate living situation, Arista is strong character and very loyal. I enjoyed her scenes with Becky, where it was very apparent how much she cared for her friend.

The other important person In Arista's life at the beginning was Nic. Nic also works under Bones and was Arista's friend and protector growing up. Now, Arista wonders if she might have feelings for Nic that go beyond friendship, but also worries about how the life they lead has hardened him. Nic was a complicated character for me. I was really conflicted by how good he could be to Arista, yet wasn't really a good person in general. I think it made his character multi-dimensional and real.

The final important character was Grae, who was the man Arista met one night and was super attracted to. Grae was such a kind and wonderful person. It made him likable, but also a touch on-e dimensional.

I can't think of anything about this book that bothered me or that I didn't like, but somehow it lacked the spark to launch it to a five star read.
Goodreads | Amazon
| The Book Depository | Chapters