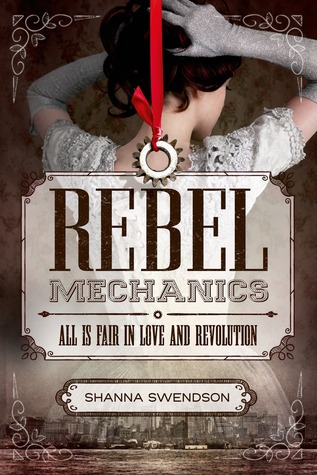 Info:
Title: Rebel Mechanics
Author: Shanna Swendson
Series: Rebel Mechanics #1
Publisher: Farrar, Straus & Giroux
Publication Date:
July 14, 2015
Source:
I received a complimentary ARC in exchange for an honest review.
Synopsis:
A sixteen-year-old governess becomes a spy in this alternative U.S. history where the British control with magic and the colonists rebel by inventing.
It's 1888, and sixteen-year-old Verity Newton lands a job in New York as a governess to a wealthy leading family—but she quickly learns that the family has big secrets. Magisters have always ruled the colonies, but now an underground society of mechanics and engineers are developing non-magical sources of power via steam engines that they hope will help them gain freedom from British rule. The family Verity works for is magister—but it seems like the children's young guardian uncle is sympathetic to the rebel cause. As Verity falls for a charming rebel inventor and agrees to become a spy, she also becomes more and more enmeshed in the magister family's life. She soon realizes she's uniquely positioned to advance the cause—but to do so, she'll have to reveal her own dangerous secret.
Review:
I love a good Steampunk story! And I definitely found Rebel Mechanics to be a fun time. Verity was a likable, although naive, character and I enjoyed the idea of the class conflict between the magical upper class and non-magical lower.
As I mentioned I did enjoy Verity as a character. She is sincere and likable in general, although certainly quite naive, especially in the beginning. I enjoyed seeing her struggle and make some missteps, but eventually figuring things out for herself.
I also liked the children that Verity cares for as a governess. Olive is such a sweetheart, I just want to give her a hug. Roland was lots of fun and a good representation of a lot of little boys. And Flora was so stuck up, but I liked that too, as it provided another challenge for Verity to face. And of course, their uncle Henry was one of my favourite characters, with his well-meaning and nerdy persona.
On the other side, Verity's mechanic friends were a different sort entirely. I liked Nat a lot, with his boyish enthusiasm. Lizzie was also a character I enjoyed. The boy Verity starts to fall for, Alec, however, was not a favourite. I just didn't like how much he pushed Verity to do things that weren't in her best interest.
As I mentioned, I really liked the way the author used magic to magnify the division between economic classes in the world she created. Class division were huge in that time period and I thought the emphasis the author was able to place on these differences was well done.
I enjoyed this book quite a bit and thought it stood us fairly well to the other steampunk books on my shelf. I am definitely looking forward to reading the next book in the series!