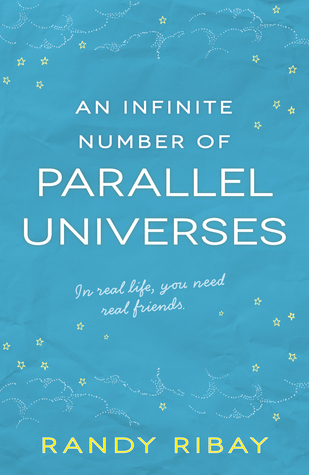 Info:
Title: An Infinite Number of Parallel Universes
Author: Randy Ribay
Publisher:
Merit Press
Publication Date:
October 16, 2015
Source: I received a complimentary copy in exchange for an honest review.
Synopsis:
As their senior year approaches, four diverse friends joined by their weekly Dungeons & Dragons game struggle to figure out real life. Archie's trying to cope with the lingering effects of his parents' divorce, Mari's considering an opportunity to contact her biological mother, Dante's working up the courage to come out to his friends, and Sam's clinging to a failing relationship. The four eventually embark on a cross-country road trip in an attempt to solve--or to avoid--their problems.

Told in the narrative style of Akira Kurosawa's RASHOMAN, AN INFINITE NUMBER OF PARALLEL UNIVERSES is at turns geeky, funny, and lyrical as it tells a story about that time in life when friends need each other to become more than just people that hang out.
Review:
I was excited to read this one, as I'm an occasional D&D player and the synopsis mentions that the characters are in a playing group together. However, I found it to be disappointing.

The D&D aspect was probably the thing I was most excited for. However, this turned out to be a bit misleading. They don't play any games at all until the final chapter.

Instead, this book just got on my nerves. More specifically, the characters got on my nerves. They were so whiny! Seriously, these characters were the epitome of teenage angst, which is not really my thing. And I only liked one of the 4 main characters. Archie was acting like a spoiled little brat and I felt super bad for his dad. Mari was just an unlikable character for me because it felt like she had no interest in anything. She's a storyteller, but she had no enthusiasm for anything. Dante was the only character I was close to liking and even then I found his characterization weak. And don't even get me started on Sam. I just wanted to shake an enormous amount of sense into him. I have no idea why any of the other characters even bothered with him.

Which brings me to my other major complaint. The whole premise of the road trip together was really weak in my opinion. Sam was obviously the instigator, but why Mari and Archie would ever agree to go is beyond me.
I think it was perhaps a bit too much to have 4 major characters in a book that is under 250 pages. However, I'm not sure if more characterization would have helped my opinion of the book, since I disliked most of the characters based on what was written.

My dislike of three quarters of the main characters made it impossible to rate this book above 2 stars.