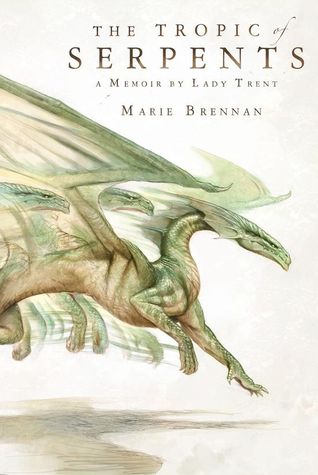 Info:
Title: The Tropic of Serpents
Author: Marie Brennan
Series:
Memoir by Lady Trent #2
Publisher: Tor Books
Publication Date: March 4, 2014
Source: I received a complimentary copy in exchange for a honest review.
Synopsis:
The thrilling adventure of Lady Trent continues in Marie Brennan's The Tropic of Serpents . . .
Attentive readers of Lady Trent's earlier memoir, A Natural History of Dragons, are already familiar with how a bookish and determined young woman named Isabella first set out on the historic course that would one day lead her to becoming the world's premier dragon naturalist. Now, in this remarkably candid second volume, Lady Trent looks back at the next stage of her illustrious (and occasionally scandalous) career.
Three years after her fateful journeys through the forbidding mountains of Vystrana, Mrs. Camherst defies family and convention to embark on an expedition to the war-torn continent of Eriga, home of such exotic draconian species as the grass-dwelling snakes of the savannah, arboreal tree snakes, and, most elusive of all, the legendary swamp-wyrms of the tropics.
The expedition is not an easy one. Accompanied by both an old associate and a runaway heiress, Isabella must brave oppressive heat, merciless fevers, palace intrigues, gossip, and other hazards in order to satisfy her boundless fascination with all things draconian, even if it means venturing deep into the forbidden jungle known as the Green Hell . . . where her courage, resourcefulness, and scientific curiosity will be tested as never before.
Review:
The Tropic of Serpents is a great follow-up to A Natural History of Dragons. I really love the format of a faux memoir. It feels like historical fiction, but, you know, with dragons.
Isabella Camherst is a great main character. I love her fiestiness, especially in a time when it was frowned upon for women to pursue academics or go on adventures. She is definitely scientific, but also follows her emotions and her heart. She cares about people as well as science and I really respect her for that. The only thing that bothered me about her was her relationship (or lack of) with her son. Even though I don't have kids yet, I couldn't imagine leaving my 2 year old son for a year like Isabella does. At the same time though, I respect her for following her passions.
This installment features lots of cultural differences, political maneuvering (which Mrs. Camherst is caught up in involuntarily) and dragonic research. Not to mention a jungle that terrified me. It was honestly called "The Green Hell" and the tribe that lived there had little fear of outsiders because, in their words, "Our home will eat you." Nope, I'm not a fan of jungles.
If you love adventure stories, dragons or historical-esque settings, this book was really enjoyable. i think some people could find it a little dry, due to the historical style of the writing, but I really enjoyed it. I also loved the pictures that were scattered throughout.
Find the Book:
Goodreads | Amazon | The Book Depository
Find the Author:
Goodreads | Web | Twitter
Bonus:
Check out this awesome video of Marie Brennan on tour with Mary Robinette: