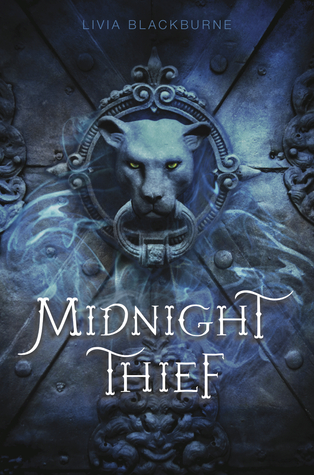 Info:
Title: Midnight Thief
Author: Livia Blackburne
Series:
Midnight Thief #1
Publisher: Disney-Hyperion
Publication Date: July 8, 2014
Source: I received a complimentary ARC in exchange for a honest review.
Synopsis:
Growing up on Forge's streets has taught Kyra how to stretch a coin. And when that's not enough, her uncanny ability to scale walls and bypass guards helps her take what she needs.
But when the leader of the Assassins Guild offers Kyra a lucrative job, she hesitates. She knows how to get by on her own, and she's not sure she wants to play by his rules. But he's persistent—and darkly attractive—and Kyra can't quite resist his pull.
Tristam of Brancel is a young Palace knight on a mission. After his best friend is brutally murdered by Demon Riders, a clan of vicious warriors who ride bloodthirsty wildcats, Tristam vows to take them down. But as his investigation deepens, he finds his efforts thwarted by a talented thief, one who sneaks past Palace defenses with uncanny ease.
When a fateful raid throws Kyra and Tristam together, the two enemies realize that their best chance at survival—and vengeance—might be to join forces. And as their loyalties are tested to the breaking point, they learn a startling secret about Kyra's past that threatens to reshape both their lives.
Review:
Midnight Thief is a quality YA fantasy with a likable but flawed main character and interesting lore. While it might not stand miles apart from the YA crowd, it was still a very enjoyable book and I would recommend it to all fans of YA fantasy.
Like I mentioned, Kyra was a likable main character, even though she had questionable morals, being a thief and all. She was the type of thief who didn't steal from the poor who were already having trouble making ends meet, but instead targeted "wallhuggers" (people who lived near the castle and had enough to spare). She also would give a portion of her take to the street kids, since she grew up on the streets herself.
The other characters were pretty good as well. Tristam is a young knight who has to learn that sometimes your duty and honour will be at odds with each other and there will be negative consequences either way. There's Bella, the kind-hearted cook who is like a mother to Kyra. There's Flick, Kyra's friend who protects her like a little sister and who I wish we had gotten to know better. Also, later on we meet Pashla, who I came to like and wanted more of her story. Then there's James, leader of the Assassin's Guild and all-around badass. He creeped me out from the start. He was so cold and manipulative and just gave me the creeps.
There's some interesting lore surrounding the tribe of barbarians that have been attacking farms surrounding the city of Forge. They have large wildcats that can easily take down livestock or humans. I don't want to give anything away, but these barbarians become a pretty major part of the story.
The plot is interesting, but not terribly unique. Kyra pushes her limits, then realizes just where her path is leading. There's some serious Assassin's Guild business that's not entirely based on just assassinating people. There's barbarians with giant cats that attack.
Overall, I though Midnight Thief was a good addition to YA fantasy. I'm looking forward to more from Livia Blackburne!
Goodread | Amazon | The Book Depository
Goodreads | Web | Twitter
Don't Just Take My Word For It:
Read.Sleep.Repeat